About Us
Mr. Ravinder Kumar founded
Sukriti Design Engineer & Consultant
in the year 2010. At that time, the company started operating in a small tool room and fabricated wire rings, to be fitted in wheel covers of cars. Based in Gurgaon, Haryana (India), the
Manufacturer and Supplier
steadily grew in terms of its production capacity, infrastructure and sales. Due to its latest production techniques and maintaining quality standards, the company received ISO 9001:2015 Certificate. And, due to its ethical business practices, it also started getting orders from international buyers. With the dedication and hardwork of our employees, we have been able to make a turnover of 5 CR.
The products it manufactures include Wheel Cover Wire Ring, Wire Components, Medium Wheel Ring, Custom Round Wire Rings, Steel Wire Ring and more. To cater to the unique demands of clients, we also provide customization solution. We make products according to the specifications provided by them. Whether they want to change the grade of material, design, style, capacity, size, shape, finish or color; we can incorporate the changes in the standard range.

Complete Product Range
The company manufactures and globally sells following products:
Wheel Cover Wire Ring
Wire Ring
Wire Components
Inspection Gauges
Panel Checkers
Industrial Jigs
Black Plate- Setup Box
Yamaha Hose Pipe
Testing Machine Assembly
Rod Components
Inspection Gauges

Medium Wheel Ring
Wire Ring Round
Steel Wire Ring
Custom Round Wire Rings
Industrial Wire Rings
Spare Wheel Cover Wire Ring
Mechanical Testing System
Front Fender- Piaggio
Sheet Metal Components
Pipe Components
Welding Fixtures

Production Facility
From cutting and coiling to wire, straightening and cutting to bending and welding, all tasks of converting the metal into wire ring are executed in-house by engineers and technicians in our two production plants. The manufacturing unit is installed with all requisite machinery to aid the experts perform such tasks and these machinery and equipment, include the following:
Automatic Wire Bending & Cutting Machine
Wire Straightener- 0.3 to 6 mm
Power Press- 5T to 300T
Resistance Welding (Automatic) Machines (3 MIG, 3 Electric Arc, and 1 TIG)
Projection Welding Machine
2 Traub
2 Cutting Coiling Machines – Developed in House
1 Coiling Machine – Developed In House
2 Straightner & Cutter
In the tool room, we have installed machinery, like:

3 DRO Milling Machines M1TR (Pacmill)

2 Surface Grinders (Guru Arjun)

1 Lathe (Everest)

Drilling Machine (Everest)

1 3-Axis Vertical Machining Centre

1 6D Wire Shaping CNC Machine

1 CNC Turning Centre

1 3-Axis PIPE BENDING MACHINE
We also use other machines such as:
2 Compressors
1 Diesel Generator Set
1 Booster
1 Hand Grinder
1 Hand Dry Cutter
All the products when produced are measured to ensure its proper dimensions. For checking the minute details and specifications of these products, our engineers use following equipment:
Height Gauge (Dial/Digimatic) 300 mm (Mitutoyo)
Micrometer: 0-25 mm, 25-50 mm (Mitutoyo)
Surface Plate: 1000mm*1500mm
Vernier Calipers (Dial/Digimatic): 300 mm (Mitutoyo)
Radius Gauge: 0-25mm
Push Pull Gauge: 0-100 kgf
We also manufacture tools, like
Press tools
Jigs & Fixtures
Special Purpose Machine
Assembly Line Automation
Industrial Gauges
Quality
As an ISO 9001:2015
certified company, it follows all the regulations during manufacturing our range. Thus, the clients can be assured that the products are developed in lines with the internationally accepted standards. Our personnel check few of the products produced in the batch and only when the sample passes these tests, the complete batch is approved. The jigs and fixtures created undergo light testing LH and leakage testing RH. We also follow QCD fundamental in which Q stands for Quality; C stands for Competitive Priced Products; and D stands for Prompt Delivery.
Major Clients
We have served the jigs, fixtures, wire rings and other tool needs of many companies. We have listed the names of few of the loyal clients below:
Lumax industries
Lumax mannoh
Neolite lightings pvt. Ltd.
Alpha maier pvt.ltd.
Vbros auto pvt. Ltd.
Enco engineers combine pvt. Ltd.
Mindarika
Minda
Rinder
Nippon
Polyplastics
Important Practices Followed:
FIFO – First In First Out
Route Card System – To maintain transparency.
Kaizen
Cause and Effect Diagram
Change Management Recorded
Abnormality Handling Recorded
Regular Upgradation of Staff
Regular Maintenance of Machines and Fixtures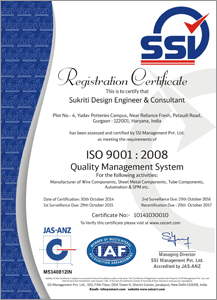 Read More